Hillary Clinton is deranged, unhinged, bereft of reason, in a state of madness. As the premier Hillary Clinton support website during the 2008 election and up until Donald J. Trump declared his candidacy for president in 2015, we know Hillary, have supported Hillary, and now condemn Hillary Clinton. We condemn Hillary Clinton because madness is contagious and her madness infects millions.
We understand why Hillary Clinton is deranged and unhinged. Hillary Clinton in 2016 ran, as we repeatedly declared before, during, and after the 2016 election cycle, the stupidest campaign we have ever seen. Our "thought crime" amongst many of our pro-Hillary readers during the 2016 campaign who became unhappy and upset with us for writing the truth was that we saw the stupidity of Hillary2016 and wrote it down for posterity before others had the intelligence and courage to write what was obvious. Hillary Clinton ran the stupidest campaign in 2016 and we are not alone in that assessment. Hillary Clinton's strongest advocates in the past, such as Stanley Greenberg, have pretty much written the same assessment; the only difference is that we wrote our assessment when it mattered, when Hillary could have changed her crackpot trajectory.
Hillary Clinton's book "What Happened" is a manifestation of a deranged, unhinged, mind in the throes of madness. It's not a grand madness such as that suffered by Medea. It is not a comic lunacy exhibited by Mean Girls. It is not even a redeeming madness such as seen in "A Woman Under The Influence". Hillary Clinton's madness is tawdry and cheap. It is a maudlin public pity play which deserves nothing but virulent contempt.
Hillary Clinton's book should not have been called "What Happened". Hillary's book shoulda been called, recalling Hillary during the Whitewater scandal, "Coulda, Woulda, Shoulda, How I Failed To Run A Smart Campaign And Instead Ran The Stupidest Campaign Ever."
Hillary's book coulda been called "The Queen of Denial – How I Failed To See 2016 Would Be A Change Election So I Ran A Status Quo Election Campaign Then Instead Of Admitting MY Failures I Persisted In My Refusal To Acknowledge Them."
Hillary Clinton's book woulda been more honest if Hillary Clinton called it "Election For Dummies: How To Run The Stupidest Campaign Ever By Hiring Your Enemies And Insulting Your Voters Who Want Change Not More Of The Same."
It's madness upon madness from Hillary Clinton. In her hysterical madhouse tour to sell books and justify her madness Hillary Clinton has made putrid statements attacking President Donald J. Trump. Unfortunately for Hillary Clinton we have a long memory.
* * * * * *
We remember the Hillary Clinton we supported. Barack Obama and the totalitarian left attacked Hillary Clinton in 2008 when she declared that if Iran attacked Israel with nuclear weapons she would "obliterate Iran". We applauded.
Hillary Clinton made the same clear case against Iran, and declared that she wanted Iran to understand the consequences of their actions, as President Donald J. Trump made against North Korea. Yet now, the wretched Hillary Clinton attacks President Donald J. Trump for the same logical stance.
"I want the Iranians to know that if I'm the president, we will attack Iran (if it attacks Israel)," Clinton said in an interview on ABC's "Good Morning America."

"In the next 10 years, during which they might foolishly consider launching an attack on Israel, we would be able to totally obliterate them," she said.

"That's a terrible thing to say but those people who run Iran need to understand that because that perhaps will deter them from doing something that would be reckless, foolish and tragic," Clinton said.
On the Stephen Colbert show Hillary Clinton attacked President Trump for his threats against a North Korean nuclear attack against America or its allies:
Hillary Clinton slammed President Trump's speech at the United Nations, calling it "dangerous."

"I thought it was very dark, dangerous, not the kind of message that the leader of the greatest country in the world should be delivering," Mrs. Clinton said Tuesday night on "The Late Show with Stephen Colbert." [snip]

"What I hoped the president would have said is something along the lines of 'we view this as dangerous to our allies, to the region and even to our country. We call on all nations to work with us to try to end the threat caused to us by Kim Jong-un,'" Mrs. Clinton said, referring to North Korea's leader.
President Trump at the United Nations declared his preference for diplomacy even as he listed the many crimes committed by North Korea against its people and its neighbors, including the kidnap victims snatched by North Korea. Then President Trump made a clear statement to North Korea: The United States has great strength and patience, but if it is forced to defend itself or its allies, we will have no choice but to totally destroy North Korea. That's much more diplomatic language than "obliterate".
Hillary Clinton's attacks against President Trump are the work of a deranged, unhinged, mind. Either that or she is a liar who has forgotten her own "obliterate" form of diplomacy. Perhaps these unhinged statements, or lies, are why more Hillary voters regret their 2016 vote than Trump voters.
In 1994 Hillary Clinton held a long press conference to address the Whitewater scandal. It was that lovely pink Chanel suit that inspired the color scheme for this website. It was a lovely Hillary Clinton that declared criticisms of her failure to answer Whitewater questions earlier as "coulda, woulda, shoulda" wastes of time. What Happened happened, argued Hillary Clinton and there was no point in revisiting the past.
But now, Hillary Clinton in her latest book, is in full couldawouldashoulda nonsense. Let's play couldawouldashoulda to demonstrate to Hillary Clinton and her cohort of the mad why couldawouldashoulda is so utterly stupid.
Goose meet gander. Are Hillary Clinton and Hillary Clinton voters justified in the "if only" couldawouldashoulda game? Play couldawouldashoulda from the Donald J. Trump point of view. If the Access Hollywood tape had not aired so near the election Donald J. Trump coulda won bigger. If the GOP establishment had rallied to Donald J. Trump and supported Donald J. Trump he shoulda won bigger. If Donald J. Trump raised more money from the super rich and outspent Hillary, not Hillary outspending Trump, he woulda won bigger. If Big Media was not so invested in attacking Donald J. Trump he couldashouldawoulda won bigger. If Bernie Sanders had not given Hillary Clinton a pass on her email scandal during the primaries then Donald J. Trump couldashouldawoulda won bigger as the email scandal woulda resonated even more. If the Russians buying ads on Facebook to support Black Lives Matter and Hillary had been exposed during the election Donald J. Trump couldawouldashoulda won bigger. If more illegal aliens had killed more Americans like Kate Steinle and Big Media did not try to cover up the news then Donald J. Trump couldawouldashoulda won bigger. If Ohio governor John Kasich had lived up to his pledge to support the GOP nominee and attended the GOP convention to laud Donald J. Trump then Donald J. Trump couldawouldashoulda won bigger. If Ted Cruz and Jeb Bush had not attacked Donald J. Trump and used their power and influence to support Donald J. Trump instead of attacking Donald J. Trump especially at and around the GOP convention then Donald J. Trump couldawouldashoulda won bigger. If GOP elected officials like Kelly Ayotte had supported Donald J. Trump instead of opposing him and asking him to drop out of the race Kelly Ayotte would still be a senator and Donald J. Trump would have won New Hampshire and couldawouldashoulda won bigger. If Big Media had exposed all the lies and corruptions of Barack Obama's Iran deal then Donald J. Trump couldawouldashoulda won bigger. If all the lies of Barack Obama had been discussed and highlighted by Big Media then Donald J. Trump couldawouldashoulda won bigger. If, to carry on with the Hillary Clinton madness, it had rained and flooded out New York City on election day then Donald J. Trump couldawouldashoulda won bigger. If California had been burned down to the ground with wildfires in the big cities like San Francisco and Los Angeles then Donald J. Trump couldawouldashoulda won bigger.
Coulda, woulda, shoulda, works both ways. If Hillary Clinton had worked as hard as Donald J. Trump then maybe she would not be in the deranged state she is in.
Trump out-campaigned Clinton by 30 percent in Florida, winning by 1.3 points a state that had gone Democratic in 2008 and 2012.

In Pennsylvania, Trump made 23 percent more visits and won the previously blue state by 1.2 points.

The biggest disparity came in Ohio, where Clinton made 17 stops and Trump made 26. He won the state by more than 8 points. In North Carolina, Clinton made 16 stops as Trump made 23, and he took the state by a little under 4 points.

And in what may prove to be this cycle's most stunning 11th hour upset, Michigan hosted Trump 13 times in the last 100 days. Clinton visited just six times in comparison…
If Hillary Clinton had a brain left she would read our analysis before the 2016 election. Years before Hillary Clinton registered Hillary2016 we discussed why Hillary Clinton was running a stupid pre-official campaign. After Hillary2016 was announced our analysis continued and we pointed out all the failures and future failures to come.
What Happened in 2016? We laid it all out years before the 2016 election began. In September of 2013 we called Hillary Clinton 2016 a "Muddled Message Mess". Hillary Clinton was a Muddled Message Mess in 2013 because she could not choose whether she wanted to run as a "stay the course" candidate in 2016 or as a "change" candidate. In "Muddled Message Mess" we declared that 2016 would be a "change" election. Stupidly, irredeemably stupidly, Hillary Clinton first tried to have it both ways then Hillary eventually slit her electoral wrists when she became the Obama Third Term.
It wasn't just a Muddled Message Mess. The entirety of Hillary2016 was a mess. Robby Mook did not have the stature nor the smarts to be the campaign manager. With a name like Mook it is almost like advertising his ineptness.
Robby Mook failed because Hillary Clinton failed. In 2008 Barack Obama won because Big Media race-baited Hillary Clinton during the primaries and then John McCain was race-baited during the general election. In other words, Barack Obama won in 2008 because he understood that after eight years of George W. Bush it was "time for a change" and ever the flim flam con man Barack Obama took full advantage for self-advancement to fool the idiots who supported him.
Instead of the correct analysis, that race-baiting by Big Media on behalf of Barack Obama in 2008 is what got him the nomination and eventually victory in the general election, Hillary Clinton and Robby the Mook convinced themselves than nonsense such as metrics and analysis is what won the victory.
Therefore, Hillary Clinton stuck pencils in her ears and gouged out her eyeballs like so much vile jelly. Hillary Clinton hired Obama stalwarts like Joel Benenson to be her campaign's eyes and ears pollster along with other Obama hires more interested in bolstering Barack Obama and their reputations than in electing Hillary Clinton. Blinded and deaf by her pollster like some stupid Oedipus wandering about ancient deserts, Hillary Clinton blundered from stupidity to stupidity. Hillary Clinton deserved to lose.
We wrote our many analyses of the stupidity of the Hillary Clinton campaign starting years ago and culminating on election night. This week in the leftist American Prospect a longtime friend of the Clintons let loose with his analysis of the 2016 election and Hillary Clinton's failures. Notice how the analysis and language of Stanley Greenberg mimics the language and analysis from what we wrote years ago:
How She Lost

Malpractice cost Clinton the election, but her ambivalence on big issues was produced by big structural factors that affect all Democrats.

By Stanley Greenberg

Hillary Clinton's tragic 2016 campaign faced withering criticism in the press, social media, and now, in Jonathan Allen and Amie Parnes's inside account, Shattered. From my vantage point as lead pollster for the Democratic nominees in 1992 and 2000, part of the closing clutch of pollsters in 2004, and invited noodge in 2016, I have little quarrel with the harshest of these criticisms. Malpractice and arrogance contributed mightily to the election of Donald Trump and its profound threat to our democracy. So did the handling of the email server, paid Wall Street speeches, and the "deplorables" comment. And her unwillingness to challenge the excesses of big money and corporate influence left her exposed to attacks first by Bernie Sanders and then by Donald Trump and unable to offer credible promise of change. [snip]

For me, the most glaring examples include the Clinton campaign's over-dependence on technical analytics; its failure to run campaigns to win the battleground states; the decision to focus on the rainbow base and identity politics at the expense of the working class; and the failure to address the candidate's growing "trust problem" or to learn from events and reposition. [snip]

The campaign relied far too heavily on something that campaign technicians call "data analytics." This refers to the use of models built from a database of the country's 200 million voters, including turnout history and demographic and consumer information, updated daily by an automated poll asking for vote preference to project the election result. But when campaign developments overtake the model's assumptions, you get surprised by the voters—and this happened repeatedly.

Campaign manager Robby Mook and his team believed that identity politics, demographic trends, and Trump's temperament would be enough to win, so they could avoid confronting the "trust problem."

Astonishingly, the 2016 Clinton campaign conducted no state polls in the final three weeks of the general election and relied primarily on data analytics to project turnout and the state vote. They paid little attention to qualitative focus groups or feedback from the field, and their brief daily poll didn't measure which candidate was defining the election or getting people engaged.

The models from the data analytics team led by Elan Kriegel got the Iowa and Michigan primaries badly wrong, with huge consequences for the race. Why were they not then fired? [snip]

Campaign chair John Podesta wanted to fire Mook, but Clinton stood by him. She rightly admired previous campaigns in which big data and technology were big winners, yet in 2008 it was the candidate and his appeal more than the technical wizardry that pushed Obama over the top. [snip]

For Clinton, however, giving up the analytics team was like giving up consultant Dick Morris at earlier tough moments—a man who was thought to bring unconventional powers to play. That Mook didn't share his results with others in the campaign reinforced his mystique as a data wizard. But that lack of transparency was malpractice. Standard practice is immediately sharing national, battleground, and state polls, as well as automated canvassing and other metrics with the senior campaign team at the very least, usually with the war room, and sometimes the whole headquarters. That is how a nimble campaign operates.

The malpractice grows exponentially with their failure to focus like a laser on winning each target primary or battleground state. Rather than shifting resources and media buys across states based on the analytics' projection of cost per delegate or voter, they needed to focus on how to win each must-win, winner-take-all state. That meant more distinct state strategies, focus groups, and state tracking polls right to the end.

The campaign's approach senselessly and increasingly drove up Trump's margin in white working-class communities, tipping Michigan, Wisconsin, Pennsylvania, and Florida. The analytics model built around these assumptions was so simple-minded it portended disaster. Despite overwhelming evidence that the Democratic base wasn't consolidated or excited, the campaign believed Trump's tasteless attacks and Clinton's identification with every group in the rainbow coalition would produce near universal support. Thus, they stopped trying to persuade voters and measured only the probability of support for Hillary. The campaign's task was turning out those Clinton voters, and they fell frustratingly short.
Hillary Clinton ran a stupid campaign. In 2008 Hillary Clinton was not able to understand that what matters is getting delegates during a primary. Barack Obama's campaign only cared about delegates. Vote totals did not matter. Hillary Clinton would win huge victories at the polls then get few delegates from those victories. Barack Obama would barely win or lose but would gain lots of delegates. In caucus states Barack Obama worked with the establishment to get delegates while the Hillary Clinton campaign mostly ignored the corrupt caucus states. The results of this 2008 stupidity meant that Barack Obama got more votes from playing insider games (recall Florida and Michigan).
In 2016 Hillary Clinton learned nothing. Against Donald J. Trump Hillary Clinton ignored white working class voters who lived in swing states. Hillary Clinton did not learn from 2008 that in a general election what matters are electoral votes not huge margins in numbskull states like New York, California, and Illinois. Hillary Clinton did not learn a thing from 2008. Hillary Clinton has not learned a thing from 2016. It wasn't couldawouldashoulda reasons she concocts. Hillary Clinton lost because she did not have a clue about what she needed to win.
Hillary lost because she deserved to lose. Hillary Clinton deluded herself with the "creative class" nonsense of demographics as destiny crap. We wrote it and now Stanley Greenberg declares the obvious:
Clinton and the campaign acted as if "demographics is destiny" and a "rainbow coalition" was bound to govern. Yes, there is a growing "Rising American Electorate," but as Page Gardner and I wrote at the outset of this election, you must give people a compelling reason to vote. I have demonstrated for my entire career that a candidate must target white working-class voters, too.

Not surprisingly, Clinton took her biggest hit in Michigan, where she failed to campaign in Macomb County, the archetypal white working-class county. That was the opposite of her husband's approach. Bill Clinton visibly campaigned in Macomb, the black community in Detroit, and elsewhere.

The fatal conclusion the Clinton team made after the Michigan primary debacle was that she could not win white working-class voters, and that the "rising electorate" would make up the difference. She finished her campaign with rallies in inner cities and university towns. Macomb got the message. "When you leave the two-thirds of Americans without college degrees out of your vision of the good life, they notice," Joan Williams writes sharply in White Working Class: Overcoming Class Cluelessness in America.

Additionally, Sanders campaigned against bad trade deals like NAFTA and the TPP to show he'd battle for working people. NAFTA was the work of Bill Clinton and the TPP was a signature initiative of Obama. Hillary Clinton needed some distance. My wife, Representative Rosa DeLauro, headed up the anti-TPP forces in Congress, but despite her incessant lobbying of Podesta, Clinton offered only a muddled opposition.
Stanley Greenberg's article deserves a full read. Of course, what we wrote years ago is a much more important read for anyone trying to understand what happened in 2016.
Greenberg writes about the "Trust Problem" and why it grew as the campaign progressed "progressively". But Greenberg misses the point we never have that Hillary Clinton's biggest "trust problem" was that no matter what policy proposals she made no one believed her because they did not think she could get the job done. Trump supporters believed Trump would and could get the promises he made done. It was the old Bill Clinton motto come to life "better to be strong and wrong than weak and right". Even if you believed Hillary Clinton and believed in her policy proposals you did not think Hillary could or would get the job done. That was the real "Trust Problem".
Greenberg does not get the full reason why Hillary Clinton lost as well as we do. But he has some gems:
Shattered suggests that Obama advisers inside and outside the campaign, including David Axelrod and David Plouffe, believed Hillary Clinton herself was the principal obstacle and doubted the campaign could course-correct. Mook and team believed that identity politics, demographic trends, and Trump's temperament would be enough to win, so they could avoid confronting the "trust problem."
Greenberg has his own couldawouldashoulda:
What might have happened if Clinton had attended a focus group herself, as Nelson Mandela did in 1993 when our research showed that his African National Congress was seen as "out of touch" and taking too long to bring change? What might have happened if she had watched people expressing their exasperation and desperation with the economy and politicians—and talking about her ties to Wall Street, her perceived lack of truthfulness, or their knowing nothing of her economic ideas? But the Clinton campaign never facilitated that kind of redirection.
Hillary Clinton was so deluded that she became the Obama Third Term in a change election year:
Hillary Clinton fully identified with President Obama's vision on identity, opportunity, honest government, inequality, the economy, and America's upward direction, viewing his campaign and governance as successful. She stocked her campaign with his consultants and those who had worked in his White House.
Barack Obama and his Third Term, Hillary Clinton were and are still deluded under their blanket of leftist delusion:
Obama and Clinton lived in a cosmopolitan and professional America that wasn't very angry about the state of the country, even if many of the groups in the Clinton coalition were struggling and angry. Clinton decided only reluctantly to qualify that narrative in favor of one more sensitive to those who were left behind.

Obama's refrain was severely out of touch with what was happening to most Americans and the working class more broadly. [snip]

Incomes sagged after the financial crisis, pensions lost value, and many lost their housing wealth, while people faced dramatically rising costs for things that mattered—health care, education, housing, and child care. People faced vanishing geographic, economic, and social mobility, as Edward Luce writes so forcefully. At the same time, billionaires spent massively to influence politicians and parked their money in the big cities whose dynamism drew in the best talent from the smaller towns and rural areas.

Clinton's default position was Obama's refrain about America, but she did invite real discussion of these issues and got close to embracing a change posture during some economic speeches and her convention address, and in the debates. But when the campaign got rocked, she reverted to the Obama narrative.
Barack Obama and Hillary Clinton wanted the Obama Third Term. America however wanted CHANGE. Not false hope and chump change. America in 2016 wanted real CHANGE from a change candidate. Greenberg cites Hillary Clinton's repeated failures to understand America in 2016 and his personal interactions with Hillary Clinton and Hillary2016 for course corrections which did not happen (Early on, I chided the campaign privately for starting every economic talk with dutiful praise for Obama's handling of the economy, and later told them not to keep saying, "America is already great." The new American majority, I wrote, "is looking for a president who will address the building problems"—and "not a third term of Obama."
Hillary Clinton wanted to be the Third Obama Term come Hell or high water. Donald J. Trump promised a change he could deliver. Hillary Clinton offered policy that failed and would fail again. Hillary Clinton deserved to lose and she lost.
Read this anecdote via Stanley Greenberg and see why Hillary lost:
Right before the Connecticut primary, I watched Clinton and my wife, Representative DeLauro, host a café discussion with working women. Beforehand, she greeted me warmly, and afterward Rosa and I hung back in the holding area to let Clinton and me speak alone and frankly. She was really moved and disturbed by what she had heard on the campaign trail, recounting the similar stories from women in suburban Philadelphia, Tampa, and Brooklyn. "They're in such pain. People are at their wits' end. They feel hopeless."

I said, yes, that is exactly what's happening in the country, which she acknowledged, but then said, "How do I talk about their pain without sounding like I'm criticizing President Obama and his economy? I just can't do that."
If you think we are tough on Hillary Clinton and Hillary2016, Stanley Greenberg calls Hillary2016 "completely schizophrenic" ("I just can't understand why you feel the need to run on progress. You are the past and Trump is change and a better life. You sound clueless in blue collar America.") Hillary2016 and Hillary Clinton were a muddled message mess.
* * * * * *
The madness of Hillary Clinton is cheap and tawdry. Unlike the great madness of Medea in the play by Euripides, Hillary Clinton's excuses for her election loss are like piss compared to fine wine.
Medea, the princess who helped Jason steal the Golden Fleece from her father the king, went not so much mad, as vengeful. Medea fled her native land with Jason out of love; Medea loved Jason so much she chopped her brother into pieces, threw the butchered meat of her sibling into the sea so that her father who gave chase in ships would be delayed as he religiously stopped to pick up the pieces of his dismembered son. When Jason of Corinth leaves Medea in order to marry the Greek princess of Corinth, Medea kills the princess as well as the two children she has borne Jason. It is Jason who is driven into madness by the vengeful and righteous Medea. No tears or couldawoldashoulda from the powerful Medea.
No Medea here. Hillary Clinton is deranged and unhinged in a most tawdry manner. Like a homeless hag muttering to herself, ordinarily we would ignore her. But madness is contagious. Hillary Clinton is deranged and unhinged because she never saw what was right in front of her.
Up to the very last hours of election night 2016, Hillary Clinton and Hillary voters were absolutely sure that Hillary Clinton was set for a win. It was delusion.
We knew Hillary Clinton was going to lose. On the Friday before the Tuesday election we published our election prediction and a map of which states Hillary would lose and which states Donald Trump would win. We had doubts about New Hampshire and Colorado. We forecast a Trump win with 281 electoral votes. We only left three states as "too close to call". Those states? Michigan, Wisconsin, Pennsylvania. We thought Trump would win at least two of those states which would make for a larger margin of victory.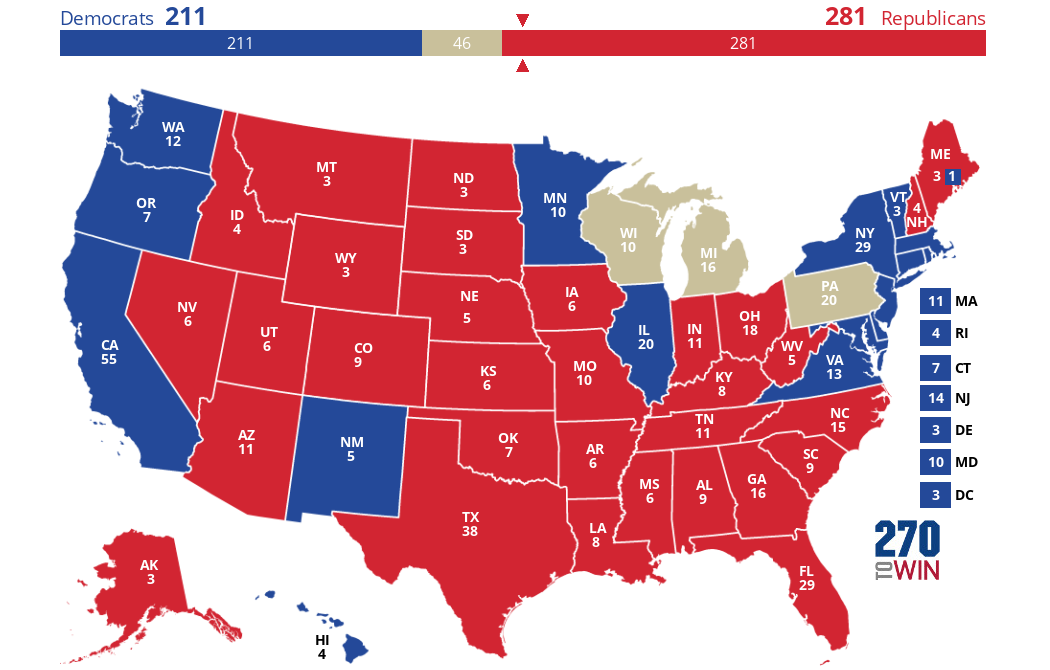 Click the map to create your own at
270toWin.com
On election night, as the New York Times projected a 98% chance of a Hillary win, we provided stellar election coverage (our comments section is an historical record of the play-by-play as the election hurtled towards a Trump victory worthy of Greek drama from the ancient world.) Other websites on the left called a early victory for Hillary. We said, "Trump Will Win."
The goons of the left knew deep in their bones that Hillary would win. The New York Times, Nate Silver's silly 538 site, Huff n' Puff Post loons, DailyKooks, all declared a quick and easy victory for Hillary Clinton even as the night disappeared with only three hours left. Those last three hours however made our analysis that much smarter.
Hillary Clinton never saw it coming. The train. The Trump train. The Trump train that was about to mow her down. And that is why Hillary Clinton is deranged and unhinged.
Hillary Clinton and her voters acted out the latest American Horror Story: Cult. They were sure of victory. No way a man that had never run for political office or been an Eisenhower who won the war in Europe, no way could he win. No way. No way. No way. Then he won.
The unthinkable happened.
Joan Didion's old essay On Morality: Because when we start deceiving ourselves into thinking not that we want something or need something, not that it is a pragmatic necessity for us to have it, but that it is a moral imperative that we have it, then is when we join the fashionable madmen, and then is when the thin whine of hysteria is heard in the land, and then is when we are all in bad trouble. And I think we are already there.
The fashionable madmen and madwomen are in a whine of hysteria. Hillary Clinton and her failure to see reality and her moral imperative to be in the White House once again has driven the madmen and madwomen into the streets.
Madness is contagious.
The contagion continues to spread. It is now on football fields. But there is a cure. Hiroshima and Nagasaki were cured after years of madness.
The American cure? Trump2020